Vietnamese exporters struggle with rising material prices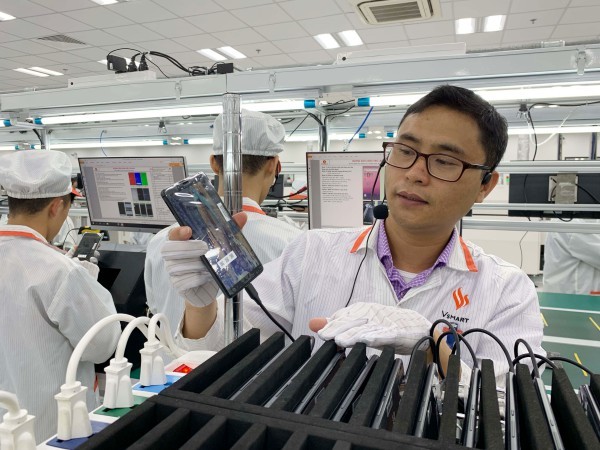 Vietnamese manufacturers and exporters are struggling to cope with rising material prices despite posting high export volumes in the first four months of the year.
Data from the General Statistics Office (GSO) show that exports were estimated at 103.9 billion USD during the period, up 28.3 percent year-on-year. Up to 19 types of goods earned more than 1 billion USD in export revenue each, or 84.5 percent of the total.
As of late April, garment exports were up 9 percent year-on-year to 9.5 billion USD while footwear shipments had hit 6.4 billion USD, an 18.7 percent increase.
The Ministry of Industry and Trade has forecast that exports and imports will continue to thrive in the near future as new free trade agreements with preferential tariffs are implemented, including the Comprehensive and Progressive Agreement for Trans-Pacific Partnership (CPTPP), the EU-Vietnam Free Trade Agreement (EVFTA), and the UK-Vietnam Free Trade Agreement (UKVFTA).
Companies, however, face challenges caused by rising material and transportation costs as well as the uncertainties over COVID-19 in the region.
Nguyen Quoc Anh, Director of the Duc Minh Rubber Company and Chairman of the Ho Chi Minh City Rubber Plastic Manufacturers Association, said that since early this year the price of materials, chemicals, and rubber additives have soared 60 percent and show no signs of stabilising.
Many partners are hesitant to place orders and are waiting for prices to decline. Meanwhile, if companies were to sell their products at previous prices they would incur losses despite rising volumes, he said.
Experts have suggested building industrial zones designed exclusively for manufacturing apparel and footwear materials as well as devising a strategy to develop the supply of domestically-made materials for production and export, thus helping firms control costs and tap the advantages contained in free trade deals./.
HCMC should delay seaport fee collection: VASEP
HCMC should postpone the collection of fees for using infrastructure facilities and public services at seaport terminals in the city until Covid-19 is brought under control, at least until the end of this year, according to the Vietnam Association of Seafood Exporters and Producers (VASEP).
The association today, May 11, informed that it had sent the proposal to the Ministry of Justice so that the ministry would report it to the Government.
The approval of a resolution by the HCMC People's Council on the fee collection has put pressure on the fishery sector as 70% of the sector's imports and exports must pass through seaports in HCMC.
VASEP has also suggested revising down the fees and that HCMC should clearly report the collection and spending of the fee revenue.
On December 9 last year, the HCMC People's Council issued a resolution on introducing levels of fees for using infrastructure facilities and public services at seaport terminals in the city.
Accordingly, the fee for goods temporarily imported for re-export, goods deposited in bonded warehouses and transit and transshipment goods would be VND2.2 million per 20-feet container, VND4.4 million per 40-feet container and VND50,000 per ton for liquid and bulk cargo.
As for imported and exported goods declared outside the city, the fee would be VND500,000 per 20-feet container and VND1 million per 40-feet container. Fees for liquid and bulk cargo would be VND30,000 per ton.
The fees would be VND250,000, VND500,000 and VND15,000 for goods declared in the city, respectively.
In addition, goods serving security, national defense, social welfare, the handling of consequences of natural disasters and diseases would be free of charge.
The fees would be collected from July 1 this year.
According to a firm trading in seafood in the Mekong Delta, enterprises have borne multiple fees, including BOT toll, environmental protection, cargo handling and storage fees and suffered from the transport fee hike. Therefore, the seaport fee will make it more difficult for them, especially when the Covid-19 pandemic has affected their orders.
Meanwhile, another company processing vegetables for export in the region stated that logistics fees have accounted for some one third of the selling prices of its products, higher than that of its rivals in Thailand, while most exports must be transported through seaports in HCMC. Therefore, the seaport fee will reduce the competitiveness of local products.
According to VASEP, the different fees for cargo declared in and outside the city will pose a high risk of overloading for the city's customs system as many enterprises may rush to complete customs procedures for their cargo in the city.
Moreover, many enterprises have imported materials for processing and outsourcing before reexporting them. If the fee is collected, they must pay the fee for both imported materials and exported products, which is unreasonable.
HCMC to auction four land lots, 3,790 apartments in Thu Thiem
HCMC will put up for auction the rights to use four land lots and 3,790 resettlement apartments in the Thu Thiem New Urban Area in Thu Duc City in mid-June.
Among the four land lots in functional zones No. 3 and 4 covering a total of over 30,000 square meters, three will be used to develop a residential and commercial-service complex for a period of 50 years. Meanwhile, the remaining one which covers an area of some 8,570 square meters will also be used for 50 years for a residential block.
The municipal Department of Natural Resources and Environment was assigned to complete the auction paperwork prior to May 15 and bidding procedures for the four land lots before June 10.
As for the 3,790 resettlement apartments in Binh Khanh Ward, the department was also tasked with finishing the bidding paperwork and submitting it to the municipal government for approval prior to May 20 and completing auction procedures before June 15.
HCMC had earlier held three auctions for 3,790 resettlement apartments in Thu Thiem, but the auctions were a failure as it had no participants.
Raw cashew nut imports rocket in first four months
Viet Nam imported nearly 1.2 million tonnes of raw cashew nuts worth US$1.9 billion in the first four months of this year, increases of 300 per cent and 323.5 per cent year-on-year, respectively, according to the General Statistics Office.
The volume neared the total posted in 2020, of 1.45 million tonnes, and at the current rate, this year's imports could exceed the 1.8 million tonnes planned by the Vietnam Cashew Association (VINACAS).
VINACAS attributed the surge in raw cashew imports over recent months to the fact that exports have maintained stable growth while domestic supply has been lacking.
Abnormal weather conditions also resulted in the harvest being a month later than usual. Heavy rains during the harvest season in cashew farming centres like the southern provinces of Binh Phuoc and Dong Nai also hampered the drying process, affecting quality, the association added.
Businesses said they had faced a shortage of raw materials in recent years and to ensure supply for export processing had to increase imports even though import prices were rising.
Cambodia is the largest supplier of raw cashews to Viet Nam, making up 60 per cent of the total. Imports from African countries such as Tanzania, the Ivory Coast, Ghana, and Nigeria have also risen sharply over recent months.
While import prices of raw cashews from most foreign suppliers fell during the first four months, the price of unprocessed nuts from Cambodia soared 26.2 per cent year-on-year.
As Cambodia's raw cashews account for the majority of the volume imported into Viet Nam, the average import price reached US$1,580 per tonne in the four-month period, up 5.8 per cent year-on-year.
Explaining the rising import volume from Cambodia, one processing company in Binh Phuoc Province said the transportation of cashews harvested in the previous crop encountered difficulties since late 2020, including a shortage of cargo containers and higher sea freight costs. Meanwhile, Cambodia has finished harvesting its new crop and its cashews can be easily delivered to Viet Nam by road.
Also, as African countries have only recently completed their harvest and exporters are still preparing their packaging and making customs declarations, cashews from the continent won't arrive until the second half of May.
According to the African Cashew Alliance, global cashew demand will continue growing strongly in 2021, especially in Europe and the US, which recorded growth rates of 17 per cent and 8 per cent, respectively, in cashew consumption last year despite COVID-19.
In the first four months of 2021, Viet Nam earned $894 million from shipping 152,000 tonnes of cashew nuts abroad, down 7.4 per cent in value but up 8.6 per cent in volume year-on-year.
The country remains the world's leading cashew exporter, but falling export prices are likely to lower profit margins, VINACAS predicted.
Philippines becomes largest export market for Vietnamese rice
Vietnam raked in US$1.01 billion from exporting 1.9 million tonnes of rice during the opening four months of the year, with the Philippines becoming the country's largest consumer, according to the Agro Processing and Market Development Authority.
This figure represents a decrease of 10.8% in volume, although it has climbed by 1.2% in value compared to the same period from last year.
Notably, local businesses shipped 411,580 tonnes of rice worth US$219.96 million to the Philippines during the first quarter of the year, down 30.7% in volume and 14.5% in value year on year.  
Strong export growth throughout the reviewed period was also recorded in markets such as the Ivory Coast and Australia, enjoying a 2.7-fold increase and a rise of 66%, respectively.
The average rice export price witnessed a surge of 18.6% to US$547.8 per tonne. The export value of white rice accounted for 39.3% of the total turnover, followed by jasmine and fragrant rice at 36.0%, sticky rice at 22.0%, and japonica rice at 2.6%.
Vietnam's largest white rice export markets include the Philippines, Cuba, and Malaysia, making up 63.1%, 12.6%, and 5.7%, respectively.
The largest export markets for local jasmine and fragrant rice are the Philippines, Ghana, and the Ivory Coast, accounting for 21.9%, 19.8%, and 16.8%, respectively.
Major consumers of Vietnamese sticky rice include China, Malaysia, and the Philippines, with the proportion representing 82.5%, 6.7%, and 4.3% of the total, respectively.
With regard to japonica rice and the Japanese strain of rice, the country's largest export markets include the Solomon Island, Cambodia, and Saudi Arabia.
April witnessed the price of Vietnamese rice exports in the global market fall from US$508 to US$488 per tonne due to a decreasing demand for raw materials.
2021 is set to see the demand for rice imports climb due to unfavourable weather conditions throughout many parts of the world.
Meanwhile, the EU market is forecast to become more prominent due to the implementation of the Vietnam – EU Free Trade Agreement (EVFTA).
HCM City mulls ways to help small firms achieve digital transformation
HCM City leads the country in digital transformation, but its small, medium and micro enterprises, which account for a majority of businesses, face challenges in achieving it.
Nguyen Viet Toan, deputy chairman of the city Automation Association, said the fourth industrial revolution and COVID-19 pandemic meant SMEs had to transform or perish.
But since it required a lot of resources, knowledge of digital transformation and technological infrastructure, small firms had encountered challenges, he said.
Vu Tuan Anh, deputy director of consulting agency Dr SME, said digital transformation was inevitable for enterprises, especially amid the pandemic and the rapid global integration.
Do Phuoc Tong, chairman of Duy Khanh Engineering Company, said his company transformed five years ago and the efficiency was evident from cost saving, increased production and general business efficiency.
Operation, connecting with other businesses and interaction with partners and customers had been very convenient, he explained.
Director of the city Department of Industry and Trade, Bui Ta Hoang Vu, said the city was set to create a legal framework that would enable businesses to innovate and mitigate legal risks.
Policies that encourage enterprises and foster their use of new technologies and digital transformation would be needed, especially those which allow the testing of new Vietnamese products and technologies that still face legal obstacles, he said.
The city would also promote the development of large technology enterprises, raise awareness of the benefits of digital transformation and digital technologies and set basic standards for digital transformation to help businesses mitigate the risks involved, he added. 
Reasonable rent tax rate and threshold is important: experts
Careful consideration must be given to the imposition of a rent tax on people who own apartments for lease, experts said, adding that it was essential to introduce a reasonable tax rate and threshold.
This was in response to a recent plan of the HCM City Department of Tax to collect tax on apartment owners who sublet their properties. The tax collection will be trialled at five locations in District 11, including Res 11 Apartment Building, Thuan Viet Commercial and Residential Tower, Bao Gia Building, 70 Lu Gia Apartment Building, and Khai Hoan Serviced Apartment.
According to Nguyen Hoang, R&D director of DKRA Vietnam, collecting rent tax would not be easy and a number of questions needed to be answered such as amount of tax compared to rent charged and would the tax affect the amount of investment in properties for the rental market?
It was also necessary to clarify the cooperation between tax agencies and the building management boards to ensure the efficient collection of the rent tax, Hoang said,
Dinh Trong Thinh from the Academy of Finance said that the General Department of Taxation should review the rent tax rate and threshold to make sure they were appropriate.
Thinh said that the current tax rate was quite high when the threshold was too low. He pointed out that the owners of apartments for lease now must pay an individual income tax at five per cent and value added tax at five per cent, a total of 10 per cent of the rental fee. He said that the rate was too high and should be cut by half.
Regarding tax threshold of VND100 million (US$4,300) per year, Thinh said that this should be increased to VND120 million because the tax would often be calculated in the rental fee.
Thinh stressed that the tax increase should not be passed on to those renting the apartments.
Coming from Gia Lai to HCM City for work, Nguyen Thi My Trinh who rented a 50 sq.m apartment at the price of VND12 million per month said she was worried that when the tax was imposed, the apartment owner would increase the rental fee.
From another viewpoint, Ngo Quang Tuan who lived in Thu Duc City said that he must borrow from the bank to buy an apartment which was now leased out. Each month, he had to pay around VND12 million to the bank, nearly equal to the fee he collected from renting the apartment while his family was still living in a motel room at VND4 million per month.
The tax rate of 10 per cent of the rental fee was too high, Tuan said, urging more consideration must be taken to introduce a more reasonable tax rate and threshold to encourage apartment owners to pay the tax.
According to Le Ngo Trung, director of Trung Le & Partner Law Firm, it was important to introduce a reasonable tax rate and threshold to prevent apartment owners from seeking ways to avoid the tax.
He agreed the threshold of VND100 million per year was too low, adding that VND150 million was more reasonable.
Tuyen Quang promoting cooperation with RoK
A delegation led by Ambassador of the Republic of Korea (RoK) to Vietnam, Park Noh-wan, paid a visit to the northern mountainous province of Tuyen Quang on May 11.
At a working session, local authorities briefed the guests on Tuyen Quang's socio-economic development and the results of cooperation between the province and its RoK partners in the recent past.
They also identified potential fields of cooperation, including partnerships between the province and RoK localities, official development assistance (ODA), and agriculture, tourism, transport-smart urban building, labour and employment, education and training, and industry and trade.
Chairman of the provincial People's Committee Nguyen Van Son appreciated the RoK's support for the province's socio-economic development, especially in health care, education, and agricultural development.
He voiced his hope that the RoK Embassy, via the Korea International Cooperation Agency (KOICA) Vietnam Office, will continue to assist the province with smart urban development in Tuyen Quang city, along with high-tech agricultural production and the inclusion of local products in the global value chains of RoK companies. He also called upon firms to invest in high-tech and safe vegetable growing and sharing knowledge on organic production.
The RoK side is also expected to assist Tuyen Quang in attracting investment in tourism development and creating optimal conditions for students at vocational schools to study and work in the RoK.
For his part, the ambassador spoke highly of Tuyen Quang's socio-economic achievements and its efforts to fight COVID-19.
He expressed his hope that the successful implementation of a rural development programme in the province, supported by the RoK, will become a model that is expanded to other mountainous localities.
The ambassador added that he will continue to introduce Tuyen Quang to RoK localities to form partnerships and help local people temporarily work in the country and consider aid in education, health care and human resources training, thereby luring more RoK businesses to the province.
He hoped that Tuyen Quang will promptly open an expressway linking it with the Noi Bai-Lao Cai expressway so as to facilitate cooperation between the province and the RoK.
Tuyen Quang is now home to six RoK projects with registered capital of nearly 32 million USD. Of which, a rural development project is being implemented in the province using non-refundable aid from the RoK Government via KOICA, totalling 18.39 million USD./.
Demand for commercial space increases in Q1
The need for commercial space in Quarter 1 slightly increased as compared to the previous quarter as exchanges of goods rose during the traditional Lunar New Year (Tet) holiday and international brands continued to expand their networks in Vietnam, according to the Ministry of Construction.
Occupancy rate at supermarkets and shopping malls was stable at around 90 percent during January-March.
In the central business districts (CBDs), the average rental prices topped 108.1 USD per square metre per month, up 0.4 percent from the previous quarter and 10.2 percent year-on-year.
Meanwhile, the rental costs in shopping centres in the non-CBDs fell 1.8 percent yearly, and 0.4 percent quarterly to 24.4 USD per square metre per month. Several projects with high vacancy rate offered rent reduction to attract tenants./.
Meagre profits for some lead to longer-term hopes
Vietnam witnessed a growth of import-export activities in the first four months of 2021, hitting a 10-year record high despite the pandemic, but profits have been eaten away by high logistics and raw material costs.
One of the world's largest producers of basa fish, Vinh Hoan JSC, saw its sales rise in all its major markets in the first quarter of the year, with gross profits hitting $11.8 million, up nearly 27 per cent on-year. However, it posted a 14-per-cent loss in profit after tax despite the gross profit gain.
Company chairman Tran Le Khanh explained that the US market's consumption is focused on restaurants, while in Europe consumption occurs mostly in supermarkets. Therefore, as restaurants gradually reopen in the US, so do exports. However, Vinh Hoan reported that its profit only amounted to $5.7 million.
According to the General Statistics Office (GSO), Vietnam's exports reached an on-year increase of nearly 5 per cent to an estimated $103.9 billion in the first four months of this year, in which domestic companies earned $25.76 billion, rising 12.8 per cent on-year and making up 24.8 per cent of the country's total export earnings. Meanwhile, exports of foreign-invested firms hit $78.14 billion, up 34.4 per cent, taking up 75.2 per cent of Vietnam's total export turnover.
However, the high costs of logistics due to the shortage of shipping containers and other factors troubles exporting businesses in Vietnam.
The PAN Group reported that its shrimp exports, although seeing revenue increase by 36 per cent, only cashed in for an after-tax profit of $1.34 million, a decrease of 23 per cent on-year. The group expressed concerns about the increase in transportation costs – the main input cost of many enterprises.
Meanwhile, general director of Song Hong Garment JSC Bui Viet Quang said that his company plans to return to growth on 2019 levels this year, based on the recovery of the company's key customer segments.
According to the latest GSO data, the price of raw materials, fuels, and other means of production in April increased by 0.37 per cent over the previous month and by 4.47 per cent on year. For the agro-forestry-fishery sector, the latter's increase even amounted to 7.82 per cent. Other sectors like industrial production and construction saw increases of 4.95 and 1.95 per cent, respectively.
According to Ministry of Industry and Trade, amid the pandemic, the lack of empty containers, increasing shipping rates, and the incident at the Suez Canal and related rising transportation costs, Vietnam's import-export activities since the beginning of the year recorded positive results. However, these factors also mean that profits for many exporting businesses remain meagre.
Nevertheless, equal growth in important export industries like electronics, textiles, machinery, and agriculture in major markets such as the United States, China, the EU, South Korea, Japan, and ASEAN is forecast and may promise higher profits in the long run.
Open doors for pandemic-related pharma imports
The Ministry of Health has opened the doors wider for more import of biology products and medical equipment for coronavirus diagnostic tests, helping both domestic and international suppliers bulk up their presence in the country.
 
The ministry (MoH) on May 6 issued Document No.3740/BYT-TB-CT on a list of biological products and medical equipment for in-vitro diagnostic tests for coronavirus that are to receive registration numbers and licences for imports, thus enabling health departments, hospitals, and research institutes to take the initiative in purchasing these for prevention and use.
The list of 26 domestic and international suppliers features prominent names such as Roche Diagnostics, Abbott, Siemens Healthcare Diagnostics, and more.
The move was made following direction from the Secretariat of the Party Central Committee, the government, and head of the National Steering Committee for COVID-19 Prevention and Control as a way to decentralise and encourage units in taking initiative and utilising flexibility in prevention and fight against the global health crisis.
The list will create more opportunities for foreign manufacturers and suppliers to increase their coverage of products in Vietnam, which is experiencing its latest batch of cases in several provinces.
Nguyen Van Dung from BIO-MED JSC – the importer of Abbott Real Time SARS-CoV-2 amplification Reagent Kit and a control kit produced by Abbott Molecular Inc. – told VIR last week, "The imports serve the pandemic prevention and fight in several hospitals, and we are focusing more on these kinds of products to meet local demand. This week we expect to install kits at Tu Du Hospital and Ho Chi Minh City Hospital for Tropical Diseases, and some more are coming."
So far, the products are installed at some leading hospitals in the north like Bach Mai Hospital and 108 Military Central Hospital; and some in the south, including Cho Ray Hospital.
Similarly, Siemens Healthcare Diagnostics Inc., Roche Diagnostics GmbH, and Roche Molecular Systems Inc. have some products on the list (see box). Other famous names include DiaSorin S.p.A. from Italy, Seegene Inc. from South Korea, Japan's Fujirebio Inc., and British-based PrimerDesign Ltd.
International biology products, as well as medical equipment manufacturers and providers, have made success in Vietnam. The country is striving towards achieving universal health coverage, looking to expand its private hospital sector, and exploring new ways to improve quality and access to healthcare, such as with the use of digital platforms.
Siemens Healthcare Diagnostics has been in Vietnam for decades. With an innovative portfolio of performance-driven solutions covering major segments including clinical chemistry, hemostasis, and molecular diagnostic and point-of-care testing – combined to streamline workflow and support improved patient outcomes – Siemens has been contributing to the development of the Vietnamese healthcare sector.
Elsewhere, Roche Diagnostics Vietnam has been present in the country since 2001. It accesses healthcare and diagnostics via an approach focusing on disease awareness, screening and early diagnosis, healthcare capacity, and sustainable funding solutions.
The local medical device and diagnostics market reports double-digit annual growth, with 90 per cent made up of imports. To meet growing demands, Vietnam's import of medical devices and diagnostics has been rising annually, and it is forecast that the industry will become even more bustling as more multinational corporations expand to and within the market.
SCG: first-quarter operating results reflect strong recovery from global downturn
Leading Thai conglomerate SCG, also one of the largest companies in Southeast Asia, has just released its first-quarter business results with upbeat business results across the board. 
The company's operating results for this year's first quarter with profit rising from high added-value products and services (HVA) chemical products in line with global market recovery, and consistent growth from food and beverage (F&B) packaging and e-commerce. The results were also aided by efficiency improvements which enabled cost savings.
On a year-on-year basis, its revenue from sales increased 15 per cent, profit for the period jumped 114 per cent, largely attributable to improved chemicals product spreads and higher equity income.
In the first quarter, SCG's revenue from the sales of high value-added products and services reached VND31.904 trillion($1.39 billion), accounting for 34 per cent of total revenue from sales. Moreover, new products development (NPD) and service solution such as Solar Energy solution and Smart and Functional solutions, amounted to 1 and 5 per cent of total revenue from sales.
Besides, SCG's revenue from outside of Thailand together with export from Thailand reached VND39.311 trillion ($1.7 billion) in the first quarter, a 42 per cent jump of total revenue from sales, an increase of 14 per cent on-year.
For SCG's operations in ASEAN (ex-Thailand), the revenue from sales during the period surged 11 per cent on-year, amounting to $1.06 billion, equal to 26 per cent of the company's total revenue from sales. This includes sales from both local operations in each ASEAN market and imports from the Thai operations.
As of March 31, SCG's total assets amounted to $25.54 billion, while the total asset value of SCG in ASEAN (ex-Thailand) were $9.66 billion, equal to 38 per cent of SCG's total consolidated assets.
On a year-on-year basis, SCG's revenue from sales increased 15 per cent, profit for the period jumped 114 per cent, largely attributable to improved chemicals product spreads and higher equity income.
In the first quarter, SCG's total assets in Vietnam came to VND116.878 trillion ($5.1 billion), an increase of 41 per cent on-year, mainly from the chemicals business. The company reported first-quarter revenue from sales at VND8.21 trillion ($356.9 million), a 34 per cent jump on-year mainly from operations from packaging (VKPC), chemicals (TPC), and Thailand exports.
In tackling the COVID-19 pandemic, SCG Packaging (SCGP) extended assistance to local authorities in Vietnam's northern province of Hai Duong and donated 100 paper beds to the field hospitals.
The ongoing "SCG Sharing the Dream Scholarship" flagship programme has reached its 14-year milestone, having funded over 5,000 students nationwide to pursue educational aspirations. The programme manifested its impact by encouraging the young, providing financial aids, and initiating knowledge-sharing communities on sustainability, ethics, and leadership.
In business, SCG is growing alongside local partners. In February, SCGP partnered with Duy Tan Plastics Manufacturing Corporation which provides PET preforms, plastic bottles, caps and closures, and industrial plastic products to multinational companies and local fast-moving consumer goods brands.
SCG and Duy Tan will upgrade technologies, cultivate branding, and enhance human resources. As for the ceramics business, SCG and its business partner Prime Group successfully exported "Made in Vietnam" ceramic tiles to the global market.
Roongrote Rangsiyopash, president and CEO of SCG, unveiled in a recent conference announcing the company's first-quarter 2021 business results that during the period, the company's unreviewed operating results registered revenue from sales of VND93.897 trillion ($4.1 billion), an increase of 26 per cent on-quarter, thanks to better performances in all businesses.
Meanwhile, profit for the period touched VND11.472 trillion ($498.8 million), an increase of 85 per cent on-quarter from all businesses.
This was driven by Chemicals Business' higher sales volume from the completion of Map Ta Phut Olefins (MOC) turnaround in the fourth quarter last year, the start-up of the second phase of MOC Debottleneck's operations, healthy global demand and higher equity income.
The quarterly growth was also driven by seasonal improvements in the Cement-Building Materials Business as well as higher contribution from the Packaging Business by active downstream portfolio expansion and the existence of a diverse customer base.
Additionally, SCG is committed to doing business in ways that are aligned with the environmental, social, and governance (ESG) framework through the development of innovative products, services, and solutions catering to circular economy, medical and healthcare, and electric vehicles (EV) industries.
Recently, SCG signed an agreement to purchase a stake in Portugal's recycled plastic business in order to pursue longer-term business opportunities in these aforementioned segments.
At present, there are 103 products classified as SCG Green Choice and are expected to increase to 135 products this year. These products reduce natural resource use and energy consumption, as well as have extended shelf life, providing viable alternatives to environmentally-conscious consumers.
In this year's first quarter, revenue from sales of SCG Green Choice products accounted for VND35.104 trillion ($1.53 billion), or 37 per cent of the total revenue from sales.
Furthermore, SCG increased the use of solar energy in its production processes. In 2020, solar energy use amounted to 88,125MWh. For January to February 2021, the amount totalled 14,769MWh. Similarly, the use of alternative fuel increased in line with SCG's Zero Coal Initiative.
Central bank calls for tightening credit for property and securities
The State Bank of Vietnam (SBV) has asked credit institutions and branches of foreign banks to tighten their loans for property and securities so as to ensure operational safety and minimise risks.
The request came as the central bank has detected some signs of potential risks at some credit institutions through the monitoring of their operation in 2020.
Specifically non-performing loans on the balance sheet were on an upward trend compared to the end of 2019 and the bad debt ratio of some consumer finance companies was at a high level and increased at a faster rate than the previous year.
At the same time, credit to the property sector still accounted for a significant part of total outstanding loans while investment on corporate bonds for construction and property trading made up a major share of total investment in corporate bonds.
In its directive, the SBV asked credit institutions to strictly control the concentration of loans regarding some big customers and large-scale property projects.
The central bank also asked banks to strengthen the appraisal process, take risk prevention measures and proceed with caution when providing loans to high-risk property projects and in localities with a land craze.
For securities, banks were requested to curb the growth of credit to securities trading and comply with regulations on the conditions and limits of credit for investing in stocks and bonds, as well as other applicable regulations.
At the same time, banks should continue to actively deal with bad debt and make provisions for dealing with risks in their operation.
Saigon Co.op stocks up extra essential goods, hand sanitizers, masks
The Saigon Union of Trading Co-operatives (Saigon Co.op) said it will increase its stock of essential goods and anti-pandemic products as the Covid-19 pandemic is developing complicatedly.
The retailer informed that its retail system consisting of Co.opmart, Co.opXtra, Co.op Food and Co.op Smile had begun to increase reserves to ensure that a steady supply of basic necessities such as sugar, rice, cooking oil, salt, etc. would be available at stable prices in the next six months.
Supermarkets have also increased their reserves of anti-pandemic products such as gels, hand sanitizers, soaps, fabric masks and antibacterial cloth masks.
Saigon Co.op's retail system has also reactivated anti-pandemic measures at the supermarket's office and entire shopping area.
All customers are required to wear masks, have their temperature measured and maintain a social distance while shopping and checking out at the cashier area, the local media reported.
Co.opmart and Co.opXtra in particular are taking extra measures to coordinate with medical agencies to disinfect shopping spaces, review pandemic prevention measures and screen thousands of working staff.
Nguyen Anh Duc, general director of Saigon Co.op, said the two current key tasks for Saigon Co.op during this stage are to ensure food security and a safe shopping environment for people. Saigon Co.op will work with suppliers and partners to roll out discounts and promotions for customers.
Vietnam's household debt elevates: HSBC
Loans to households by four major State-owned banks (Big 4)—Vietcombank, BIDV, Vietinbank and Agribank—rose substantially from 28% in 2013 to 46% in 2020, which translated into rapid growth in household debt from 25% of gross domestic product to 61% in the same period, according to HSBC.
HSBC used balance sheets in the latest financial statements and annual reports of the Big 4, which account for half of total loans in Vietnam, to dissect the key data.
HSBC's "Vietnam at a glance – What do banks' balance sheets tell us?" report showed that the sharp rise in riskier consumer lending, along with elevated household debt, remains a big concern in the country.
Growth in household debt moderated significantly in 2020, with a 1% increase compared to an average 3% since 2013, but the level remains elevated.
Consumer loans accounted for roughly 50% of the income of the workforce last year, which is a high ratio for an emerging market such as Vietnam based on the International Monetary Fund's standards.
"Elevated consumer leverage could drag down future consumer spending, especially as labor market conditions have been severely impacted by the Covid-19 pandemic," the report said.
Thanks to the effective containment of Covid-19, Vietnam's economy is in better shape than that of its regional peers. However, its labor market weakness remains a concern for the recovery of domestic demand.
Although the unemployment rate fell to 2.4% in the first quarter of 2021 from a peak of 2.7% in the second quarter of 2020, there were 950,000 fewer jobs than before the pandemic. Besides, a large proportion of the workforce is still employed in the informal sector without adequate safety nets.
The average monthly salary of workers fell 1.5% last year to VND6.6 million. HSBC said there needs to be a fiscal stimulus for vulnerable households and workers.
"Cash transfers and tax deferrals for household businesses need to be accelerated, which would in turn support a rapid recovery in private consumption," the bank suggested.
Live pig prices drop significantly
Live pig prices over the past few days have dropped 6-8% compared with early May thanks to the surge in live pig supply as well as lower pork demand.
In northern Vietnam, the prices of live pigs on May 10 were VND66,000-69,000 per kilo, falling 6-7% compared with early this month. Lao Cai and Phu Tho provinces saw the steepest declines in the prices of live pigs, which fell to VND66,000-67,000 per kilo. Live pig prices in Bac Giang, Yen Bai, Nam Dinh and Ha Nam provinces have dropped to VND69,000 per kilo.
In central Vietnam, live pig prices have fallen 4% from last week to VND70,000-72,000 per kilo. In the south, live pig prices have fallen to VND76,000 per kilo from VND80,000 per kilo last week. In some southern regions, live pig prices have even dropped to VND70,000 per kilo.
Long, a live pig trader in the Mekong Delta province of Long An, said thanks to the surge in live pig supply, the price of live pigs of high quality in the province is now VND71,000 per kilo, while that of live pigs of a lower grade is VND70,000 per kilo, declining by VND2,000 per kilo compared with last week.
According to Thanh, a live pig trader in the southern province of Binh Phuoc, live pigs in the province are currently priced at VND70,000 per kilo and he can purchase up to 100 live pigs a day. However, due to the declining demand for pork, he only purchases some 30 live pigs a day.
A report of the Department of Agriculture and Rural Development of An Giang Province showed that the prices of live pigs in the province range between VND70,000 and VND74,000 per kilo, a 5% drop from early this month.
In HCMC's Hoc Mon wholesale market, live pigs are sold for VND75,000-78,000 per kilo.
As a result, pork prices have also declined. In some wet markets in HCMC, the prices of the pork side, ham and pork leg are VND150,000, VND110,000 and VND100,000-120,000 per kilo, respectively, falling VND10,000 per kilo from last week.
Hoa, owner of a meat stall on Pham Van Chieu Street, Go Vap District, HCMC, said although pork prices have dropped sharply, pork demand remains low. She is now selling 30 kilos of pork a day, 10 kilos lower than last week.
Ministries propose adjusting import tariffs, encourage use of new materials
Right from the beginning of this year, the Ministry of Industry and Trade (MoIT) reported to the Prime Minister on the forecast of supply and demand, as well as price fluctuations of steel products in the global market and Vietnam in 2021 and the coming years.
The MoIT has proposed the PM assign ministries and agencies to coordinate with it to implement solutions to stabilize supply and demand and steel prices. The ministry also proposed the PM direct the Ministry of Finance (MoF) to adopt a policy to control import duties on some steel products with large fluctuations in prices.
Besides, the MoIT proposed the Ministry of Construction (MoC) to forecast and provide the demand for construction steel of the economy in 2021 to balance steel demand, helping enterprises to actively produce and sell steel products.
According to the MoIT, currently, the domestic steel supply is in abundance, but the supply capacity faces difficulties due to the Covid-19 pandemic. With such a situation, the steel market will possibly set up a new price level, which later will be adjusted following the relationship between supply and demand.
Mr. Nghiem Xuan Da, Chairman of the Vietnam Steel Association, added that the association sent an official dispatch to member enterprises to carry out solutions to boost production to soon stabilize the domestic supply.
Amid the complicated developments of the construction material market, Deputy Minister of Construction Le Quang Hung said that the ministry has just proposed some solutions to stabilize supply and demand and construction steel prices.
Specifically, besides monitoring and controlling steel prices with the MoIT and MoF, the MoC will actively follow steel price movements in localities to promptly guide and propose to the Government measures to ensure the operation of the construction market in 2021.
As for more radical solutions, the MoC asked relevant ministries and agencies to study and promote steel production capacity, prioritize the domestic market by adjusting and balancing the export volume of finished steel products; research and guide to change construction technology to reduce steel consumption in construction works, replacing reinforced concrete method with new construction technology on the steel structure.
Some new building materials can also be used to replace conventional building materials, such as ash from cement factories, rock dust from mining sites, recycled sand from construction waste that can replace natural sand.
Protective measures geared towards online consumers strengthened
Vietnamese online businesses and authorities in the era of online shopping are gradually working towards getting the market under control through individual platforms and official protective policies.
Statistics from the Vietnam eCommerce and Digital Economy Agency show an average of 1,500 complaints from domestic consumers each year, of which over 50% are related to online shopping.
Notably, most complaints involve the quality of goods, for example the goods received are different from promotional images or contain misinformation on the origin.
Furthermore, the Vietnamese government's official e-commerce portal in 2020 alone handled over 250 complaints related to suppliers that did not have a business license, failed to make official listing of their sites with competent authorities, and sold low-quality or counterfeited products.
According to the HCMC Market Management Department, anyone can create a fake account to sell goods online and hire freelancing moped riders to deliver them, making it difficult to trace the origin and related warehouses. Many retailer site owners are also based in foreign countries to avoid being discovered and fined.
Fortunately, the ASEAN Coordinating Committee on Ecommerce has issued regulations on online retails with clear guidelines on the responsibilities of the suppliers and selling platforms meant to protect consumers' interest.
Meanwhile, the Vietnam eCommerce and Digital Economy Agency has listed their own website where consumers can report scamming suppliers and online shopping sites.
Regarding the law, the General Department of Market Management proposed to have relevant regulations adjusted to force suppliers and online shopping platforms to provide sufficient data on their goods as a basis for handling violations.
Meanwhile, the HCMC Police and Market Management Department officially started together to combat smuggling, trade fraud, counterfeiting and other violations regarding consumers' goods in HCMC.
Along with authorities' preventive measures, several online shopping platforms have set up retail outlets in popular shopping centers for consumers to purchase genuine goods.
US and EU buyers to choose Vietnam as sourcing destination in 2021 
Global supply chains will turn to Vietnam, India and Turkey for more diverse sourcing.
US and other global buyers continue to choose Vietnam as one of the leading sourcing countries this year as they are seeking to diversify their buying away from China. 
The latest report, conducted by Qima, a provider of supply chain compliance solutions, showed that roughly a third of global buyers and 38% of US-based buyers named Vietnam as a place they intend to increase sourcing from 2021.
A traditional first choice for buyers diversifying away from China, Vietnam saw its popularity among Western buyers grow by leaps and bounds over the past few years – a trend that has remained in effect so far in 2021. 
The data showed a 16% year-over-year increase in demand for inspections and audits in Vietnam in the first quarter (Q1). It was a third consecutive quarter of growth that had initially begun as a post-lockdown rebound in mid-2020. 
The growth was more than just a return to pre-pandemic levels, as the Q1 inspection demand has doubled compared to Q1 2019, according to the report.
The inspection surge in Vietnam is in line with the findings of the QIMA global sourcing survey, where 43% of US-based respondents cited Vietnam among their top three buying geographies as of early 2021, doubled from 2019. 
Vietnam is not the only country in the region to benefit from expanded business volumes. Qima data on inspection and audits demand in Southeast Asia showed double-digit growth across the board, fueled by the renewed interest from American and European brands alike.
The report was conducted on more than 700 businesses with international supply chains.
Record high ETF inflow turn Vietnam stock market into Asia's spotlight: SSI 
With a net inflow of US$370 million from exchange-traded funds (ETFs) in April, Vietnam for the first time topped the Chinese market (US$319 million) as a favorable destination for investment fund.
A record high of net inflows at US$370 million from over 10 ETFs has turned the Vietnam's stock market into a spotlight of the Asian region in April, according to the SSI Securities Corporation (SSI).
Such number remained in stark contrast with a net outflow of US$750 million in Asian market in April as a result of the Covid-19 resurgence in the region, stated the SSI, referring to large amount of money withdrawal from major markets such as South Korea, India or Taiwan (China).
China also suffered a major drop in capital inflow to US$319 million in April from US$4.8 billion in March.
In Vietnam's market, Fubon FTSE Vietnam was one of the major contributors in the month with an estimated inflow of VND7.8 trillion (US$340.66 million), followed by VFM VNDiamond (US$26.73 million), VanEck Vectors Vietnam (US$8.56 million), SSIAM FINLead (US$7.86 million) and FTSE Vietnam (US$3.27 million).
With a total asset of VND8.2 trillion (US$358.44 million), Fubon, established in April, became the fifth largest ETF fund in Vietnam. 
Meanwhile, the VFM VN30 ETF was the only one that posted a net outflow of VND111 billion (US$4.85 million) in April. The figure, however, was significantly lower compared to the previous two months, noted the SSI.
Since the beginning of the year, ETF funds have injected a total of VND13.2 trillion (US$576.5 million) into Vietnam's stock market, it added.
On the stock market, foreign investors for the first time in six consecutive months returned as net buyer with VND273 billion (US$12 million), indicating "a positive sign for the local market," stated the SSI.
Given Vietnam's favorable economic outlook SSI expected ETF funds to maintain its positive view on the local stock market and thus keep the capital inflows coming, albeit at a lower rate compared to April.
Sharing the same view, Viet Dragon Securities Company (VDSC) expected VN30 stocks, formed by the largest 30 largest and most liquid stocks, continue to be the major attraction for ETF funds in coming times.
With continuous fund inflows from ETF funds and individual investors, VDSC suggested the benchmark Vn-Index may rise to 1,370 this month, a new height for the local stock market.
Vietnam's listed non-financial firms post three-digit growth in profits for Q1 
Strong business results were thanks to sound performance in fields of real estate, natural resources, chemicals and services.
Vietnam's non-financial companies in the stock market posted a profit growth of 157% year-on-year in the first quarter of 2021, while revenue slightly rose by 8.6%, according to data provided by financial firm FiinGroup.
Data from the firm revealed as of May 7, 854 out of 1851 banks and firms on three stock exchanges of the Ho Chi Minh City Stock Exchange (HoSE), Hanoi Stock Exchange (HNX) and Unlisted Public Company Market (UPCoM) have released their respective financial statements for the January-March period.
"A surge in profit growth of non-financial firms was thanks to strong performance of those in the fields of steel production and oil, along with good results from firms' non-core business activities and the low-profit base from the same period of last year," said FiinGroup's expert.
Strong business performance was also recorded in other fields of real estate, natural resources, chemicals and services.
Among those having published financial records, 546 have released business plans for the whole year with estimated revenue and post-tax profits rising by 15.1% and 16.5% year-on-year, respectively.
Meanwhile, such firms have completed 23% of their yearly revenue plans and 27.2% of profit plans.
However, FiinGroup also noted public enterprises under Vingroup, accounting for 20% of total market capitalization of non-financial firms, have not announced their business plans for this year.
"Estimated growth for revenue and profit, therefore, may not fully reflect the prospect of the entire business group," noted FinnGroup.
Profit in the first quarter of the 27 banks listed on the stock market  grew by an impressive rate of 77.4% year-on-year, while operational revenue declined by 28.4%.
"Increases in net interest margin (NIM), positive performance of services and lower cost for credit loss provision are three major factors boosting their profits in the first quarter and also for the whole year," stated the financial company.
Meanwhile, value of bank stocks is on the rise since April 26. VPBank was the growth driving force for a 2.8% increase value of the banking sector in the final week of April, thanks to the deal of selling 49% stake in its consumer financial firm FE Credit to Japan-based Sumitomo Mitsui Banking Corporation worth US$1.4 billion.
Petrol prices increase in latest review
The retail prices of oil and petrol increased as of 15:00 on May 12 following the latest adjustments made by the Ministry of Finance, and the Ministry of Industry and Trade.
Accordingly, the retail price of bio-fuel E5 RON 92 was raised to a maximum of 18,426 VND (0.8 USD) per litre, up 438 VND, and that of RON 95-III was set at no more than 19,531 VND per litre, up 446 VND.
Meanwhile, the ceiling prices of diesel 0.05S and kerosene were adjusted up 446 VND and 566 VND to 14,774 VND and 13,825 VND, respectively.
The ministries decided to increase subsidies for petrol prices by 400 VND – 1,900 VND per litre.
The two ministries review fuel prices every 15 days to keep domestic prices up to date with the global market.
The global petrol prices have been affected by the COVID-19 pandemic, which has become more complicated in several Asian countries recently, they said./.
Source: VNA/VNS/VOV/VIR/SGT/Nhan Dan/Hanoitimes
Vietnam's freeze dried sugar-cane juice patented in US