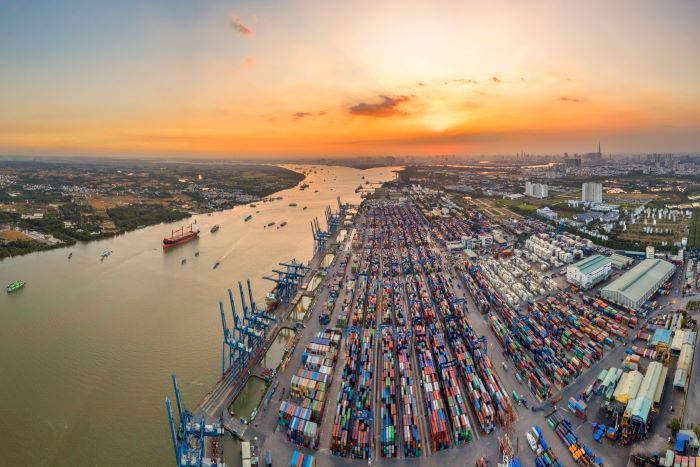 Container lines and forwarders are warning that Vietnam faces a shortage of containers in the coming weeks owing to a combination of disrupted sailing schedules of ships returning to Asia, and trucking delays and factory closures due to a COVID-19 outbreak.
After more than three weeks of lockdowns, importers from Vietnam are increasingly concerned about getting goods out of factories and finding truck drivers to haul the goods to the port. Like most other major Asia ports, shippers moving goods out of the Cat Lai and Cai Mep ports in Ho Chi Minh City are seeing delays of two to five days, according to forwarder SEKO Logistics.
"The coronavirus outbreak at Cat Lai has negatively impacted the logistics flow in the area, leading to lower operational productivity," a spokesperson for container carrier HMM told JOC.com. "Port congestion has put pressure on container operations, including gate-in and gate-out procedures."
Barge services are also being disrupted, making it more difficult to secure berthing windows at Cai Mep, according to HMM. The deepwater terminal at Cai Mep is the main gateway for southern Vietnam, although shippers prefer to use Cat Lai because, although draft-restricted, it is closer to Ho Chi Minh City. Consequently, cargo often must be barged or trucked approximately 50 miles between the two ports.
The port delays are limiting the productivity of truckers, who are also being delayed when passing through the network of health checkpoints that have been set up as part of government quarantine measures. The quarantining of drivers infected with coronavirus disease 2019 (COVID-19) has further crimped truck capacity in and out of the Ho Chi Minh City ports.
Seko said it expects equipment shortages at major Vietnamese ports to persist through August, with 40-foot and high-cube boxes being the scarcest. Maersk told customers in a monthly update that it does not expect there to be enough equipment to satisfy demand for Vietnamese exports.
Meanwhile, there are concerns port delays could worsen in other Southeast Asian countries as COVID-19 infections surge.
Danny Hoffmann, managing director of Gold Star Line, said COVID-19 infections have reduced customs staffing at Malaysian and Indonesian ports. Port Klang Authority, which oversees the Westport and Northport terminals, has introduced a vaccination program among port workers amid a fresh outbreak in Malaysia.